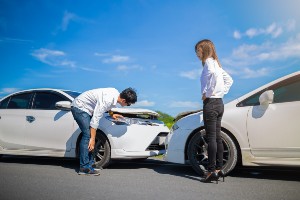 Car accidents can be stressful, overwhelming events. Unfortunately, car crashes in Gwinnett County happen all the time and can cause severe injuries to everyone involved. Injuries may result in financial hardships, especially if the victim is out of work without pay. However, car accident victims may pursue financial compensation when another driver's negligence causes a crash. 
Remember, pursuing a claim on your own can be complex. Georgia has various personal injury laws and deadlines that accident victims must follow. One misinterpretation or missed deadline may result in a judge dismissing the case or an insurance company denying your claim. Hiring a Gwinnett County car accident lawyer may be your best bet when pursuing a car accident claim near Atlanta. 
What Causes Car Accidents in Gwinnett County? 
Atlanta is home to one of the busiest airports in the country, so it is common for roads, highways, and interstates to be constantly buzzing with traffic. Unfortunately, the chances of an accident increase with so many cars on the road. If you understand what may cause a crash, you might decrease the chances of being in one. 
Distracted driving:

One of the leading causes of car accidents in Atlanta is distracted driving. Driving requires extreme focus. Taking your hands off the wheel or eyes off the road could result in a catastrophic crash. Examples of distracted driving include texting, eating, engaging with passengers, and daydreaming. 
Drunk driving:

Despite the known dangers of driving under the influence of drugs or alcohol, too many drivers get behind the wheel intoxicated. Alcohol and drugs impair a person's judgment, depth perception, and ability to focus. Additionally, drunk drivers may have a slower reaction time to other vehicles, road conditions, or weather hazards. 
Speeding:

Driving at excessive speeds poses an unnecessary risk to everyone on the road. When drivers speed, they have less time to react to road hazards, and drivers have less control over a speeding vehicle. Additionally, it takes longer to come to a safe stop. Speeding also may lead to a more severe collision, resulting in catastrophic injuries or death. 

Failing to follow traffic laws:

Traffic lights, stop signs, and turn signals help prevent accidents. However, some drivers ignore the basic rules of the road and make improper turns or fail to yield. Examples may include running a stop sign, turning without signaling, or merging when there is oncoming traffic. 
Remember, the most dangerous thing on the road is other drivers. Even though you take all steps to keep yourself safe, other drivers might not be as considerate. Be alert for erratic stopping, speeding drivers, and swerving between lanes. If you notice any of these signs, stay away from the vehicle. Trying to cut them off may only anger the driver, putting you in harm's way. Instead, allow them to pass and report the vehicle to law enforcement when it is safe. 
Common Injuries Resulting from Car Accidents in Gwinnett County
Car accident injuries can range from minor bumps and bruises to more severe injuries, like a traumatic brain injury or internal bleeding. Regardless of how minor you think your injuries are, you should always see a doctor after an accident in Gwinnett County. Remember, not all injuries show symptoms right away, and some may worsen over time. However, a doctor might be able to diagnose and begin treatment right away. 
Some common injuries a doctor may diagnose from a car crash include: 
Whiplash

Traumatic brain injury

Broken bones

Cuts, bruises, and sprains 

Spine and back injuries

Internal bleeding

Organ damage
Not only will seeing a doctor be beneficial to your health, but it may aid your injury claim. An insurance representative might interpret not seeing a doctor as fabricating your injuries. Similarly, an insurer may argue that your injuries resulted from a different accident if you wait to see a doctor until symptoms appear. Protect your claim and see a doctor immediately after a car accident in Gwinnett County. 
Can I Receive Compensation for My Car Accident Injuries? 
In Georgia, car accident victims have two years from the accident date to file a claim against the negligent party. If you fail to file a claim in that time, you may not be able to recover compensation for your accident-related expenses. Many car crash victims make the mistake of waiting until they recover from pursuing a claim. Remember, filing a claim is a lengthy process. It takes time to file a claim, review evidence, and interview witnesses, and your injuries might prohibit you from filing a lawsuit. 
Instead, contact a skilled Gwinnett County car accident attorney for assistance. They can handle the day-to-day aspects of your case, including pursuing financial compensation, while you recover. Depending on the circumstances surrounding your case and the injuries you sustained, your injury attorney might be able to secure compensation for the following damages: 
Medical bills 

Lost wages

Car repairs

Transportation expenses

Physical therapy

Pain and suffering 
Remember, insurance companies are not on your side when pursuing a claim. They know accident victims are vulnerable and likely need compensation to cover expenses. Therefore, insurers often present low settlement amounts that do not come close to what you need. That is why you must hire a car accident attorney in Gwinnett County. An attorney can handle all negotiations with the insurance company and fight for you to receive a fair settlement. 
Contact an Experienced Gwinnett County Car Accident Attorney Today 
If you were recently in a car accident in Gwinnett County, contact Tabbaa Law today. Attorney Sami Tabbaa is a highly trained personal injury attorney with experience at various law firms throughout the Atlanta area. With experience as a business consultant for the world's top insurance broker, Mercer, Attorney Tabbaa brings a unique perspective other attorneys cannot provide. Having handled thousands of personal injury cases, Attorney Sami Tabbaa or Tabbaa Law is a top choice for legal representation in Gwinnett County. Call (770) 370-7881 or complete our online contact form today to schedule a free consultation.